The four months of training at The Data School have been hard work, there has been some long days, some tricky content and big expectations. There are many things that I love about The Data School, by enjoying what I was doing I was able to take the challenges in my stride. I am proud of the hard work I have put in getting through the first four months. I am also very happy that I have had some fun, and made some friends along the way. I thought I'd write a blog about a few of my favorite parts of the Data School.
The Team
I had the pleasure of working with 7 other fantastic, hard-working people. The working culture we had was friendly, relaxed and supportive. It made deadlines easier to achieve, questions easier to ask and decisions easier to make. I think the biggest challenge I face heading out to placements will be working independently.
The Coaches
We were blessed to have been trained in our profession by a range of talented and experienced trainers. We saw many different perspectives on the Tools we used, and different approaches to different problems. It has also been really easy to get in touch with anyone within our Company, or the Data School UK. My personal training favorite was a particularly creative lesson on Fixed LOD's…
@craigsdewar and his best attempt at imitating parenthesis
Networking
During our first four months, we have been given many opportunities to get out of the training room and be part of the Tableau and Alteryx communities in Sydney. We were able to go to Data Day Out, Tableau and Alteryx user groups and more! It was fantastic to see the things other people were doing with these tools.
@pris_lam talking at Sydney Tableau User Group
Branding
I got the most out of the things that initially that made me uncomfortable. Maintaining a personal brand is something I haven't had much practice at, but I am really starting to enjoy. Writing has never been my strength, but I have loved being able to share the things that we do in The Data School. As part of our training, we did a project using Google Analytics, to see how many people and where they were viewing our content. I am now pretty excited that I have content available that is being viewed all over the world!
Client Projects
We were very lucky to have been exposed to a diverse set of industries. From clothing retail to professional sporting, we had the chance to learn 7 different sets of terminologies, KPI's, and data quirks. These projects were great lessons in teamwork, time (and stress) management and presentation skills.
In my opinion, enjoying your job is a very important thing. I consider myself very lucky to have found myself in a job position that makes it easy to get out of bed!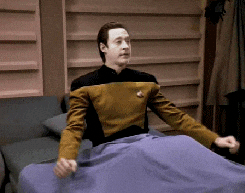 Looking forward to the next two years of placements!